ONE UNFORGETABLE EVENING!!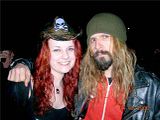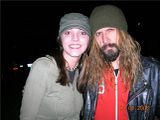 Me and Stacy meeting Rob Zombie!! Enough said!! We were in heaven!! Can you blame us!! He put his arm around me and I was just thinking..AHHHH FINALLY!!!!!

Me and Stacy meeting Sheri Moon Zombie. As soon as Sheri came up the the gate she saw me and pointed me out and said "HEY!!!!" "I saved you some shirts!!!" and she gave me 2 Total Skull shirts and took pics with me. When she saw the Mug shot I wanted her to sign from the House of 1000 Corpses Soundtrack she was like "AWE" She is absolutely the sweetest thing ever!! I love her voice in person even better in person!! I never felt so special!! Especially when she recognized me and saved me Total Skull gear!! How much cooler can anything get!!!!!
I finally met my idol!!!! I can die a happy girl now haha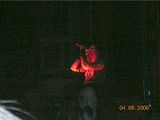 Crotched the camera in!! Got a few shots. We were so damn close these pics dont do it justice. Me and Stacy were practically in the pit. And well Frank and Patrick were ha ha. Frank got a tattoo on Friday that takes up his whole other side and he was still in there!!
The show was intense!!!!!!!! I cant even put it into words... it fucking rocked!!


Fun random pics while jamming to Lacuna Coil and getting our drink on.

Me and Stacy getting a kick out of Frank's shirt! We were like hey we are at the Great Zombie show for real ha ha ha ha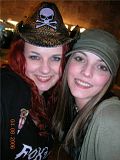 Me and Stacy hott bathroom picture before the show kicked off.
I got me 2 stckers.. one of a naked chic that says FOXY FOXY and one of Zombie. I also got me a Living Dead Girl looking like a stripper tank top that says Rob Zombie which I am sure I will wear religiously.
I will never forget this night.... NEVER!